I was listening to Pagi@Era online(conducted by Pak Nil & Din beramboi) this morning and the topic of discussion was about " kahwin atau bujang: mana lagi best?". The topic was quite interesting and 4 out of 5 callers says that kahwin lagi best!..hihiihih.
Some of them were saying that its good to get married because there'll always be someone to take care of u and the house chores(most of the guy said that...:D ), to share the ups and downs in life, to go shopping with, to hugs u thru the cold nite and to sing u a lullaby before going to sleep. But, I guess the callers forgot to mention that with all those nice things about marriage, there's always an existence of the big word that is R.E.S.P.O.N.S.I.B.I.L.I.T.Y!
I guess that's the same word that my hubby have in mind once he completed the solemnization process on the 22nd august. The word become so much bigger on 1st October as we found out that there's a human being moving in my womb...huhuuhuhu.
As this baby is growing (indirect way of the fact that my belly is growing bigger), the word R.E.S.P.O.N.S.I.B.I.L.I.T.Y is becoming huge each day. After watching few movies about baby and parenting, I realise how much effort my parents have experienced in order to raised me up and I know that I'll experience it sooner as this baby is already start kicking me at night.
This entry is meant to give myself a self-motivation in order to be more matured, less childish and to be prepared with my 'little one' that is expected to be smiling to me on 1st of June. This word has surely drives me toward becoming a great mother to my children, a good wife to my husband, a better daughter to my two abahs and umi, a lovable sister to my siblings and in-laws, and also a nice person to everybody else. Hope it goes as well to you that is reading my entry right now...yes YOU!!! :p
my baby...5 weeks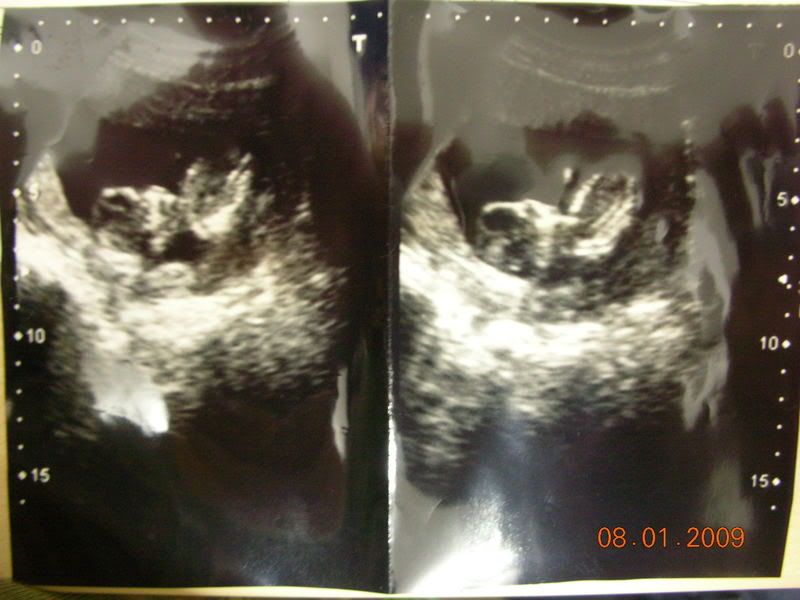 my baby... 14weeks 1 day