Hubby and I have just had a chance to watch the Shout Awards 2010 few days ago. My main intention to watch the show is of course just to see KRU presenting one of the awards on stage, nama pun die hard fan kan, even KRU were there for only few minutes pun
tetap semangat nak tengok jugak.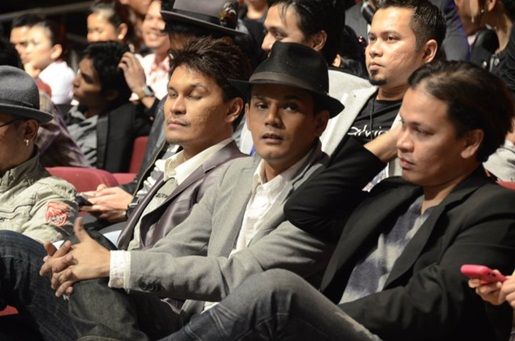 =- KRU @ Shout Awards 2010, Source: BeautifulNara -=
While watching the show, I keep providing hubby with tonnes of infos that he didn't even ask. I am so delighted to pass the information to him without the need of him asking any question to me. U see, I'm such a thoughtful person..it's a noble thing to do OK, menyampaikan ilmu
walaupun cuma satu ayat...I sampai kan banyak ayat hari tu, so hubby agak bertuahlah kan?


By watching one performance only, I can passed on many important information to hubby. These are the examples of the 'ilmu' that I have passed on to hubby while watching the Shout Awards 2010.
Contoh 1: Performance Yuna & Najwa
=- Yuna & Najwa performing at the Shout Awards 2010, Source: here -=
Me:
Cantik kan baju Yuna. Kalau I pakai gini, mesti pelik tapi sebab Yuna pakai nampak cantik je. Oh by the way, Yuna siap ada buat collaboration effort dengan
Hana Tajima
, the famous designer of Maysaa. Hana ni kacukan Jepun dengan Omputih. Dia ada datang Malaysia jugak recently, kan best
kalau I dapat beli jugak any outfit from Maysaa. I wonder, ada ke eh butik Maysaa ni kat Fukuoka?
Hubby

:
*not paying attention to whatever things that I'm saying*
=- Yuna Zarai & Hana Tajima @ 2010 Shout Awards. Source: StyleCovered -=
Me:

Do you know that Yuna sekarang tengah di gossipkan dengan Qi, pelakon blooger boy tu?

Hubby: Oooooo


=- Qi & Yuna @ Shout Awards 2010. Source: Kosmo -=
Me:

Eh, you do know that Qi dulu bercinta dengan heroin cerita Blogger boy tu si Julie Woon, then lepas diorang putus...dia kawan dengan Yuna pulak.



Hubby:

Oooooo
=- Qi & Julie Woon @ shout awards 2009. Source: BeautifulNara -=




Me:

Do you know Najwa's father?



Hubby:

Whatt????? Why do I have to be bothered to know about who is her father?

Me:

Najwa ni actually anak TPM kita yang baru tu, apa nama TPM kita tu..aaaa Muhyiddin Yassin
*wah, nama artis boleh hafal, nama TPM sendiri boleh confuse ngeeeee*



Hubby:

Owh, really?


=- Najwa with her family, Source: here -=
~~ by watching that one performance, I am able to provide more that 5 important facts to hubby, isn't it amazing? ~~
Contoh 2: Award presenter: Aisyah Sinclair & Cheryl Samad
Me:

Eh, seksi nya lah diorang ni. By the way, Aisyah Sinclair ni baru je lepas bersalinkan baby girl dia bulan 8 hari tu, now dah dapat body gorgeous and slim balik.



Hubby:

*diam je*



Me:

Eh, tahu kan Aisyah Sinclair ni adik kepada Ashraf Sinclair tu?
Hubby:

*diam lagi*



=- Aisyah Sinclair @ Shout Awards 2010, Source: Sensasi Selebriti -=
Contoh 3: BUNKFACE wins the Rockstar Award (Rock Award)
Me:

Eh, tahu kan Sam Bunkface ni dulu couple dengan Juliana Evans. Sekarang dah break dah. Kalau tak silap, dulu2 Adam AF2 pun pernah gak ada gossip dengan Juliana Evans ni
, yang lagu "HAI" yang Adam nyanyi tu memang lirik dia tujukan untuk Juliana Evans ni lah.
By the way, sekarang ni rasanya Juliana Evans ni close dengan Zizan Raja Lawak pulak.


Hubby:

*not listening to me anymore*
hahahaha
=- Bunkface with their trophy, Source: CuteCarry -=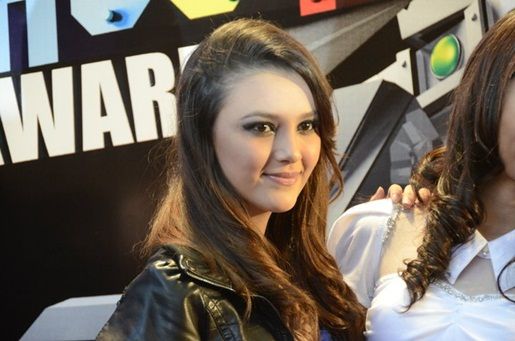 =- Juliana Evans @ 2010 Shout Awards. Source: BeautifulNara -=

That was part of the 'lessons' that I've been teaching to hubby during that 2010 Shout Awards Show. At the end of the lesson session errr I mean, at the end of the show, I was saying to hubby "you are so lucky to have me around you.
The fact that I can spoon feed you with lots of infotainment within split seconds is just an amazing wonder, isn't it?".
Hubby just grin and nod his head slowly and says, "I'm am indeed a very lucky man"....and then shakes his head to the left and right..
ceh!

Psssstt: kalau sekarang ni ada lagi Pop Kuiz, gerenti I leh menang besar kalau masuk
eheh