I was not feeling well since yesterday afternoon thus today I'm staying at home. I'm down with nausea and vomiting after having my lunch yesterday at the university.



When I updated my current health status at FB last night, here's the responses that I received from my friends.
Hahaha, it's very funny when most of my friends jump into ONE ULTIMATE conclusions after reading the status and even congratulates me for being pregnant. LOL.


Sorry to disappoint you guys, but apparently that was not the case.
I was actually having

nausea and vomiting

; which are actually common and aren't so serious to be worry about. In my case, this vomiting and diarrhea go away within 2 days, though I must say the first few hours of having it has dragged me into weakness and fatigue that last for the whole day.
I was feeling nausea an hour after I finish eating my lunch. I took one tablet of paracetamol to subdue the headache away but it wont go anywhere. I believe it is caused by
food poisoning
, which I most probably get from my home-cooked food that I brought yesterday to campus for my lunch. As it is summer season now, the food can be easily spoil if it is not quickly refrigerated. I was supposed to eat cooked food that have been out of a fridge no longer than 2 hours.
Apparently, although hubby eats the same food as I do and eat it at the same time he didn't experience any food poisoning symptoms as I do.

I was heavily sweating though the air condition was set at 20deg Celsius to cool me down. I even have
abdominal pain
, cramps, diarrhea, headache, dizziness, and chills. I called hubby and asked him to fetch me but he got lots of works to do so I must drive the car on my own to went home.



Although I was having all those
abdominal pain
, cramps, diarrhea, headache, dizziness, and chills; I managed to drive the car slowly. While driving, I feel the urged of vomiting.
Nasib baik memang ada plastik dalam kereta. *jangan baca kalau tengah makan*
. I puked all the lunch foods that I ate and it wasn't even coming out from my mouth only; but the waste matter were also coming out from my nose too...and yet I am still driving while vomiting *imagine that*.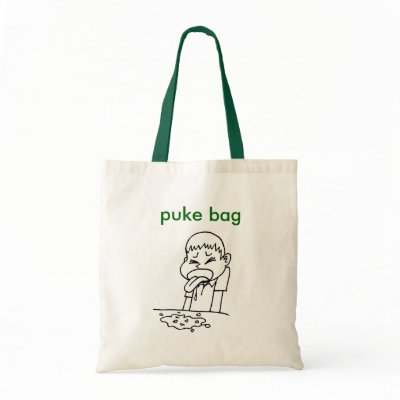 +- puke bag. pic source: here -+
Alhamdulillah I managed to arrived home safely.
Itupun I naik highway dan tak ikut jalan biasa sebab I rasa pening setiap kali tekan brake pedal
. The vomiting has leave me dehydrated and fatigued. I lost my appetite as I'm afraid that I might ejected the foods that I take from the stomach through the mouth again.
Hubby has to finish his work to meet some important datelines that he wasn't able to look after me last night and had to leave SN under my supervision although I'm not feeling well. SN wasn't being at his best last night because mommy was not playing with him like always. He was crying and being cranky for no reason and couldn't really understand why mommy don't want to play with him. After few hours, he decided to do his own 'thing' as long as mommy was sitting next to him.


One thing that I learned through this series of vomiting is that its better not to take over the counter anti-nausea or anti-diarrhea medication for 24 hours, unless a doctor advises it. I took paracetamol to ease the pain but apparently I think it just making thing worse.
Masa muntah tu, dengan paracetamol tu satu tablet keluar balik, tak sempat hadam pun lagi ubat tu
.



As for today, I just eat a piece of honey roasted chicken without rice. I lost my appetite a bit but

Alhamdulillah

the
abdominal pain
, cramps, diarrhea, headache, dizziness, and chills are not bothering me anymore.
I just hope that I'll be feeling better so that I can go to the university tomorrow. I took this as a reminder for me not to eat any food that looks or smells spoiled (perut ni extra sensitive, maybe untuk perut hubby food tu OK, tapi untuk perut manja I ni food tu dah tak OK) .



Whatever it is, this is just a small test from Allah to remind me of Him not only when I'm sick but also when I'm healthy.
As for now I am just going to get plenty of rest until all the symptoms are completely gone.



Pssssttt:

menaip entry ini sambil baring sebab masih lagi rasa pening kepala.
~ Thanks for reading this (^-*) ~