Melalui dan menyelusuri hari2 mendatang bergelar bakal ibu yg
chomeyl
(
kata penguat utk ayat hik hik hik
), sekali sekala mengundang rasa gundah gulana di hatiku. Macam ibu2 muda lain (
muda lg ke?
:p) yg bakal bergelar ibu wat pertama kali, memang timbul & wujud pelbagai perasaan dlm hati.
Excited
tu sudah tentu, tapi dlm masa yg sama, rasa
risau
+
takut
+kadangkala
paranoid
+
gelisah
membuatkan otak memikirkan perkara2 negatif je.
* memikirkan mcmana la agaknya
time bersalin
nanti?
* Hubby leh masuk sekali x kat
labour room
?
* Bersalin
normal
ke
C-section
? Bulih ke aku push baby kuat2 so that Dr x yah forsep smp lonjong paler baby
chomeyl
ku nanti?
*
Sakit x
time nak bersalin tu erk? (
ala..xyah buat2 tny, sume org ckp ibarat nyawa di hujung tanduk je...sbb tu ada hadith
: "
Apabila seseorang perempuan melahirkan anak, keluarlah dia dari
dosa-dosa seperti keadaan ibunya melahirkannya
".) -->
hadith di curi kat sini
* Bersalin plak kat
Jepang
nih, faham ke aku nanti ape Dr dgn nurse cakap masa nk deliver baby tu nanti? ..huhuhu..
* mampu ke aku jadi
ibu yg baik
utk anak2 aku?
* Sejauh mana kah
rasa syg anak aku
nanti pd aku?
* Boleh x aku
didik anak2
mcm arwah ma didik aku dulu smp aku alhamdulillah berjaya ke tahap mcm skrg nih?
* asal malam menjelma je mesti rasa gelisah sbb terfikir
keadaaan diri
yg dh x se"
seksi"
dulu. Hubby syg aku lg x kalau lepas bsalin bdn aku x back to normal?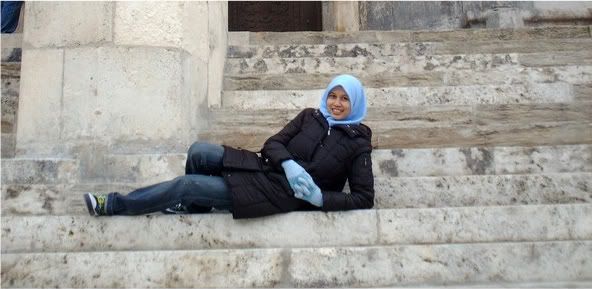 (gmbr masa muda2, time leh pose seksi sbb tiada keboyotan yg terjuih)
* kalau body x balik ke ukuran anak dara, mcmana nak stylo & jangok2 mcm dulu?
crap excuses!
ibu2 akan kelihatan stylo bila menggayakan beg
gin & jacqie
.
xcaya?????
sila tgk design beg2 nih dgn mata hati yg terbuka!
(

iklan selingan!
)
(beg2 ni boleh didapati secara online ataupun teruslah berkunjung ke Isetan The Gardens ataupon Isetan KLCC, jgn g cr setan udah isk3x)
* dah dapat baby nanti,
hubby manjakan
aku lg ke
manjakan baby
lebih dr aku? kalau hubby lebihkan baby, agak2 aku jeles ke x nanti erk?
*
gelisah
gak sebab : semakin
susah nak tdo
+
sakit2 pinggang
+
lenguh kaki
+ kene
pakai stokin
+ kene
makan sayur
+ kene makan
supplement
+ kene
makan buah2
+
susah
nak
berak
membuang sisa2 besar
+ asyik nak ter
kencing
urinating
+
kentut busuk
dgn kadar sound system spt altec-lansing x dpt di tahan2 lg (
fakta pelik tp benar ttg bakal ibu

,

sila ambil perhatian buat bakal2 bapa sekalian yer
:p) .
* hal2
paranoid
ni x selalu terjadi. biasanya terhasil dlm benak fikiran slps mendengar pengalaman2 dr ibu2 lain. Antara
kisah2
yg kdg2 menimbulkan
paranoid
di hati :
kisah (i)
: seorang ibu yg mengalami
slight depression
masa
mula2 melahirkan anak
. susah nak
attach
dgn baby dan memerlukan masa dan sokongan padu dr hubby & ibu nya utk wujudkan bond kasih syg ibu dgn anak. kalau x dpt sokongan, berkemungkinan mengalami '
meroyan
'.
kisah (ii)
: seorang ibu yg sihat2 saja sewaktu mengandung dan di beritahu oleh Dr tiada sebarang
complication
pada kandungannya. Selepas
selamat melahirkan
, baby nya
meninggal dunia
.
** (
i'll made special entry for this touching reality story about how tough life can treat u, later2 lah occay!
)
kisah (iii)
: seorang bakal ibu yg sedang sarat mengandung 8 bulan,
terjatuh
di bilik air. Walaupon selamat melahirkan, tp bayinya lahir
x sesempurna
baby2 lain.
-------------------------------------------------------------------------------------------------------
Feel free to labeled me as
pathetic
or having such a
negative thinking
, but I cant resist myself from thinking about all those thing on regular basis (
every single day
in my life
). Thus, to overcome those feelings from conquering my lovely positive thinking in mommy-to-be life, I was doing some searching in the internet when I finally found
this entry
made by
Baby Ibu blog
that slightly decreases all those crappy feelings that I've been thinking lately.
(bukti2 dah lama aku practice nak jd ibu yg baik hik hik hik)

So, I strongly suggest to other mommy, mommy-to-be or simply to readers who enjoy the pleasant of reading & viewing thoughts about life, baby and parenthood thing to drop by at the
blog
and enjoy the experiences shared by the owner of
this blog
.
** Psssstttt:
This entry was written in conjunction with my effort to grab Luna-baby-bag : pink offered by the owner of the blog, as one of the prizes offered for the
BabyIbu Giveaway: Win Gin & Jacqie Baby Bag contest.
Enjoy reading this entry?
Try reading other entries under this label: ~pregnancy & me~