Chomeyl
kan
anak dara
mak buyung yang tengah posing dengan bunga
peach blossom
nih? Eh typing error pula..keyboard ni
stuck
sikit tadi...bukan
mak buyung
tu yg
chomeyl
,
bunga
tu yang
chomeyl
;)
Hari ni dengan bangganya nak bagitau
cik
puan yatie chomeyl
telah mendapat bunga dari seseorang...
owh ya, sila jangan timbulkan spekulasi liar y
e.
Owh ya...seseorang tu bukan hubbyku yakni
incik Solah
(
beliau sangat kedekut untuk membeli bunga waima yang berharga 100yen=rm3.80 sejambak yang dijual di friend shop,kashihama
).
In fact, aku tak pernah sekali pon menerima sekelopak bunga dari hubby walaupun sudah berkali2 merengek2 dan meminta2. Akhirnya aku diam sendiri untuk megelakkan diri ini tergolong dalam golongan isteri yang suka meminta2 sehingga menggusarkan hati hubby dan menjerumuskan aku ke dalam golongan isteri2 derhaka <-- (
ayat ini untuk memujuk hati je..sebabnye udah berkali2 ku minta..yg ado, tak pernah dapat bunga pon
:p )
** abe, ampunkanlah dosa2 isteri mu yang sengal ini!
Jadi nya sape yg bagi bunga ni weh? Oyat la cepat!!

Bunga
ini hadiah dari
sensei
(cikgu) yang ngajar kelas
nihon-go
yang aku join setiap Jumaat kul 3petang kat kyushu university.
Tidak dilupakan, selain daripada mendapat
bunga
,
sensei
juga bermurah hati menyelerakan tekak aku & kawan2 dengan hidangan '
sakura mochi
'. Ia di perbuat dari beras jepun (yang sangat glutinous dan melekat2, rasa macam makan pulut) + di balut dengan
cherry leaf
+ di intikan dengan
red beans
----> hidangan yang sungguh '
oisyi'
(
sedakk gilo babeng weh!
<--
kata ore qelate
)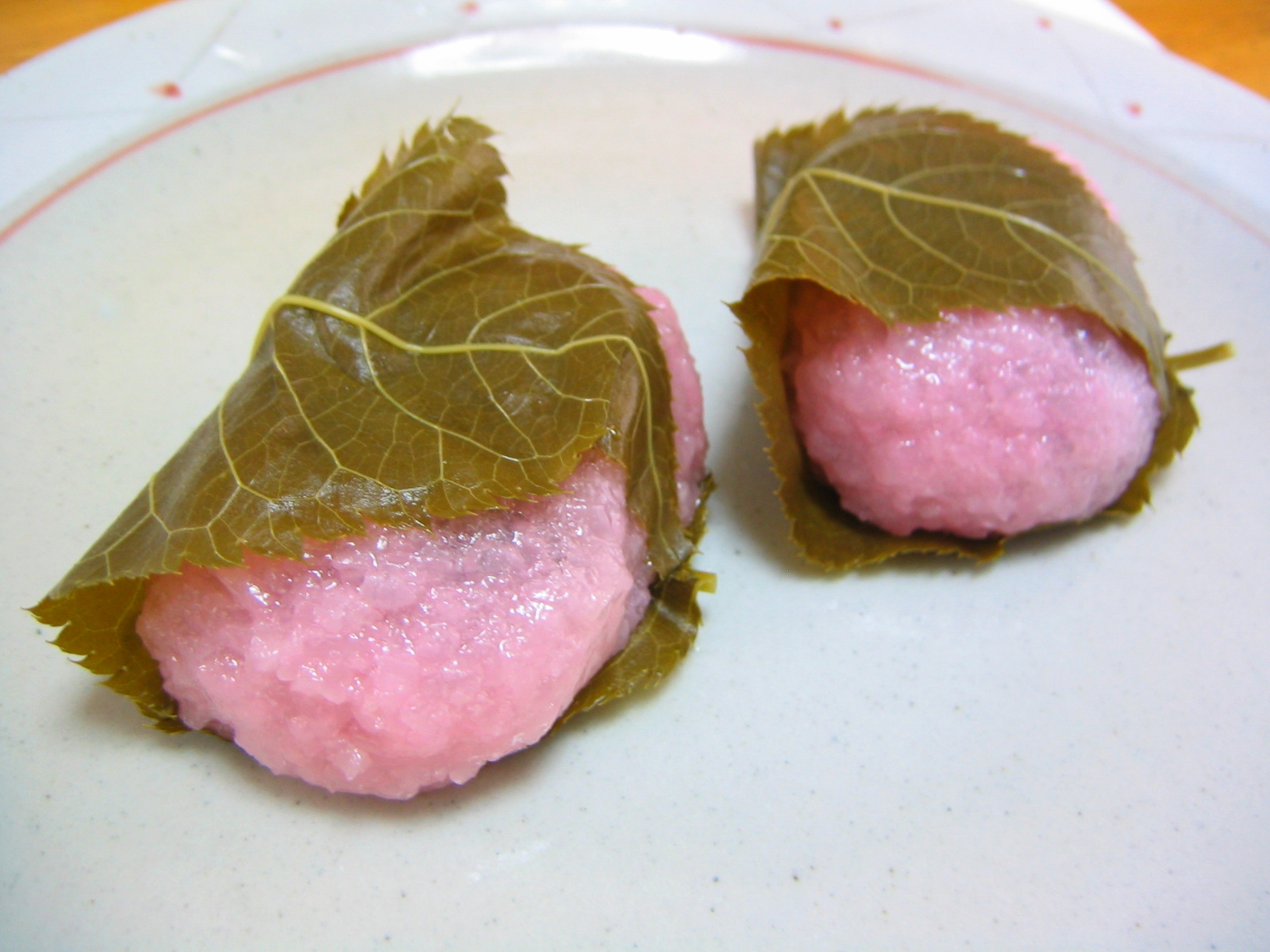 (

pssstt

: sila melelehkan enzim amilase sendiri semasa menikmati gambar ini. aku tak reti nak buat, jadinya tak bulih nak share resepinya dengan kalian :) )
Bunga dan nasi pulut ini sempena meraikan 'girls day' ataupon dalam bahasa Jepangnya -->
Hina Matsuri.
ADA APA DENGAN

HINA MATSURI??
(
kalau salah baca kan..cam hina mahsuri pulak
)
Elleh...yeenade..pooodaaa chit....kalau aku letak panjang2 sejarah pasal
Hina Matsuri
pon, takdaknya korang nak baca kan. Karang scroll laju2 juga turun bawah hik hik hik.(
ingat aku tak tahu ke, aku pon biasa wat gitu
:p)
Secara ringkasnya, festival yang di sambut pada
3 March
setiap tahun ini diadakan sempena meraikan perempuan a.k.a "
Girls Day
". Diorang akan mendoakan untuk anak2 perempuan supaya membesar sihat dan bahagia.
Biasanya ia disambut di shrine dengan ada hiasan
doll
yg disusun sebanyak
5-7 tingkat
.
Tingkat paling atas:

Emperor & Empress

(ada tabir mcm kat dalam imperial court dolu2 tu)
Tingkat dua:

3 court ladie

s (sannin-kanjo)
Tingkat tiga:

5 musicians

(gonin-bayashi)
Tingkat 4:

2 ministers

(udaijin and sadaijin)
Tingkat 5:
3 servants
Pastu ada la hiasan2 kecik lain contohnya perabot2, makanan2 and bla bla bla.
Bagi yang berminat nak tahu lebih lanjut lagi, boleh la membaca selanjutnya kat -->
sini
,
sini
dan
sini
ataupon sile lah
google
sendirik :)
Adakah korang rasa macam aku ni
jakun
a.k.a
perok
a.k.a
darak terlajok
sehingga teruja sangat2 mau share cerita mendapat bunga dengan kalian? Eh tidak..bukan itu niat hati ku.
Aku sekadar mau berkongsi sedikit sebanyak budaya Jepun dan sambutan festival2 kat sini supaya bila aku dah balik Malaysia nanti, aku tak lupa kenangan2 yang pernah aku lalui kat sini.
Al-maklumlah semakin meniti kedewasaan, semakin tinggi kebarangkalian untuk mengalami masalah lupa atau dalam bahasa saintifiknya "
short term memory loss
"!
pssttt:

korang percaya ke ayat2 kat perenggan atas tu? takde, aku tipu je...memang aku nak berlagak sebab dapat bunga..tu je..hik hik hik.
Sebelum berpisah, let sing the
Hinamatsuri Song
together2x..
sambil joget menggoyang2kan punggung cam shin-chan