For those who have been a loyal reader to this blog, I'm pretty sure you guys know how much I love KRU especially Yusry. As it was his solemnization with Lisa Surihani last night, I kept "refresh"-ing the twitter page for any updates regarding to their solemnization.
+- pompuan fanatik kat Yusry, refresh twitter every 2secs then sibuk RT tweet reporter -+
Then once I got the update, I'll quickly update it to my Facebook wall to share with my family & friends up to the extent that my family thought I was watching the ceremony LIVE
hahahaha.
These are some of my wall post last night.
+- penuh wall FB dengan update, over dari reporter -+
TRIVIA akad nikah YLS (Yusry-Lisa Surihani) :-
• Hanya dengan sekali lafaz, pasangan popular Yusry Abdul Halim, 39, dan Lisa Surihani Mohamed, 26, sah bergelar suami isteri.
• Akad nikah tersebut diwalikan oleh abang sulung Lisa, Mohamed Azan Mohamed
• Pihak perempuan menerima 7 dulang hantaran --> seutas rantai platinum sebagai mas kahwin, wang hantaran yang dirahsiakan, sebentuk cincin, sirih junjung, bunga rampai, kelengkapan solat, manisan Kristal dan kek Vanila.
• Pihak lelaki menerima 9 dulang hantaran --> sirih junjung, bunga rampai, sebentuk cincin, himpunan cakera padat album The Beatles edisi vintage, instrumen muzik berupa sebuah keyboard, kelengkapan solat, kelengkapan pakaian lelaki, manisan dan kek berbentuk gramafon.
• Persalinan Lisa : busana kurung moden rona putih diperindahkan dengan butiran manik rekaan Cosry.
• Persalinan Yusry : baju Melayu moden rekaan Taufik Tailor dipadankan dengan samping rona lembut rekaan Nuratiqah Songket.
• Dekorasi dewan menerima sentuhan magis daripada KS Entourage ini tampak indah dengan dekorasi campuran bunga-bungaan segar yang hampir kesemuanya bewarna putih sesuai dengan tema pilihan, 'Winter Garden'.
For those of you *yang duk dalam gua dan tak tahu menahu pasal wedding YLS*
; here's some pics during the akad nikah ceremony. Credit pic to Beautifulnara, OHBulan and Tupai.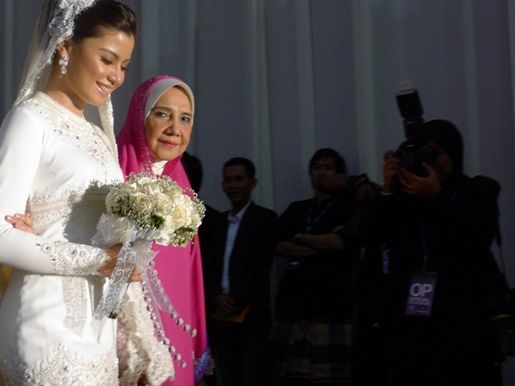 +- the gorgeous Lisa Surihani -+
+- waiting patiently on the dais -+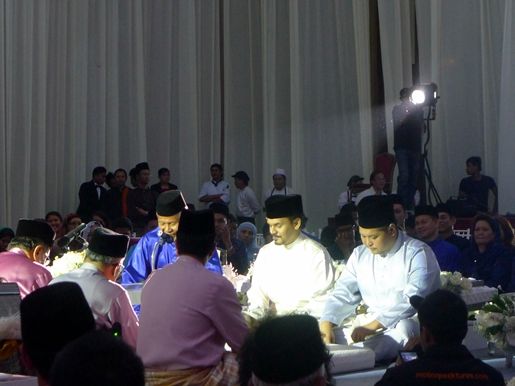 +-- the happy bride and groom -+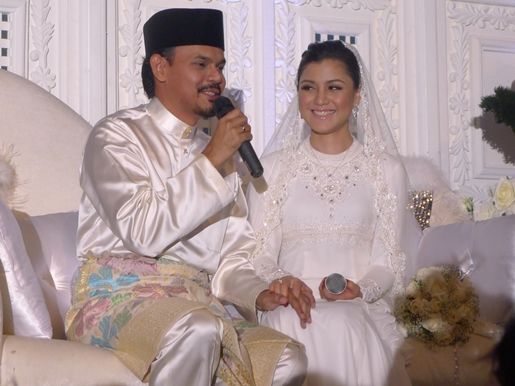 +-

wedding ring being worn on the ring finger -+
+- They completed each other, may YLS live happily ever after -+
Last but not least, here's the video during the akad nikah by Yusry. Nampak sangat muka Yusry yang dibius cinta bila dia tersenyum penuh bahagia selepas lafaz nikah itu di sahkan oleh para saksi...tersengih2 hensem kat situ
hehehe.
I'm happy for both of them, semoga pernikahan kali ini berpanjangan dan di kurniakan zuriat yang soleh/solehah dan comel2, Ameen.
"Semoga Allah memberkati kamu dan melimpahkan berkat kepada kamu dan menghimpunkan kedua kamu di dalam kebaikkan".
Pssssttt : I almost shed a little tear when I was watching their akad nikah video...over kan mak? Mengalahkan anak mak yang kahwin
ngeeeee.
~ Thanks for reading this (^-*) ~