This entry is the continuation of

Journey to Nagasaki (part 1) --> Saikabashi Park and Nishikai Bridge

. ,
Journey to Nagasaki (part 2) --> Huis Ten Bosch : Kinderdijk
.
and

Journey to Nagasaki (part 3) --> the rest of Huis Ten Bosch area
,

Journey to Nagasaki (part 4) --> Isahaya Koen
The journey of the
2nd day trip
were continued to
Atomic Bomb Museum
. The admission fee is
200yen
per adult. A short history about this :-->
At

11:02 a.m

. on

August 9, 1945

, an atomic bomb was dropped over the city of

Nagasaki

. The city suffered catastrophic damage with

73,884 people died

and

74,909 people injured

by a blistering blast wind, heat rays, and radiation.
Before entering the museum, we perform our obligation i.e to take pictures
lah aper lagik
We were not allowed to take pictures inside the museum.
Tapi memang tak teringin pon nak amik gambar dalam tu sebab ngeri la tengok gambar2 mangsa bom atom tu. Incik hubby filter dulu gambar2 sebelum aku leh tengok sebab dia tak nak aku mimpi bukan2 tengah2 malam.
Before entering the museum, we went inside the
Museum of History & Folklore
for free admission fee.
* kirei = cantik
** kawaii = chomeyl
(bergambar dengan peminat ahaks)

After leaving the Atomic Bomb Museum, we headed to the

Peace Park

which used to be
Urakami Branch of Nagasaki Prison.
It have a giant sculpture placed in the middle of the area.
Masa ni sentap dengan incik hubby sebab incik hubby tak nak guna tripod untuk amik gambar. Aku memulakan aktiviti merajuk2, ngamuk2 hentak2 kaki tak nak amik gambar. Incik hubby hilang sabar dah, dia pon geram balik. Itu pasal la gambar muncung je ekekekke. Ye lah... faham2 lah, majuk kat tengah2 dataran tengah2 panas pulak tu kan...saper bulih sabar weh?
Itu pasal la itu incik hubby sulah talak mulih tahan sabar...padan muko aku ekekekeke
(dua budak sentap tengah posing wakakakaka)

After
15 minutes
of sulking drama, we were back into lovey-dovey-romantic-puppy love condition again hik hik hik.
(photo taken by
Abg Sheikh
)

We stopped to fill in the tank before continuing the journey by heading to
Unzen
and
Shimabara
as the last stop of our trip.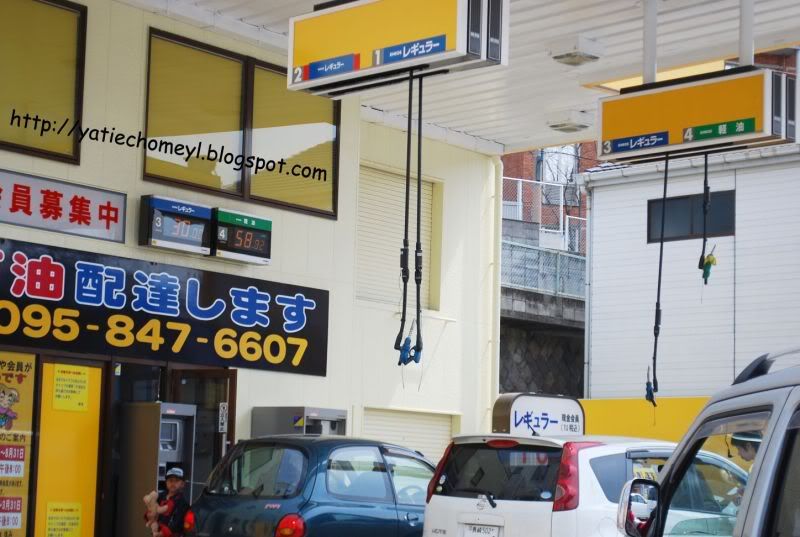 (Isi minyak dulu baru teruskan perjalanan, jimat space kan stesen minyak nih, takde tank pon..sume overhead jer)