As I am staying in front of my laptop for almost 10hours per day, I need to find something useful and exciting to do in order to chased away the boredom that I'm suffering.
After joining the
Nuffnang Community
for the sake of my blogging craziness, I've found out about a contest organized by
Wawasan Open University
. Thus, I decided to give it a shot and just try my luck.
"Everybody dreams a lot, some are lucky- some are not. I hope I'm the lucky one!
:)
So, here's the important details of the contest:
Contest Entries – How to participate
A) Creating the postcard
Snap a photograph of you (contestant) and/or your friends studying/reading in an ideal, interesting, beautiful or outrageous learning environment of personal choice.
Using any image editing software, digitally caption the photograph with no more than 10 words, relating to the theme "Your world, your classroom." The Contest allows the use of only English and Bahasa Malaysia for captions.
B) Posting your postcard
Upload your postcard as:

An entry on your blog and/or
A main page profile photo on your Internet Social Networking profile.
** for full details on the contest, feel free to visit --->
http://www.contest.wou.edu.my
--- ok, enough about the contest. Let's move on to my postcards...yippeee!!! ----
(1) Title:
To Read Is Easy
Caption:
To read is easy, to understand is effortful.
3) Title:
Not Born As A Braniac?
Caption:
Not born as a braniac? Then, strive to become genius!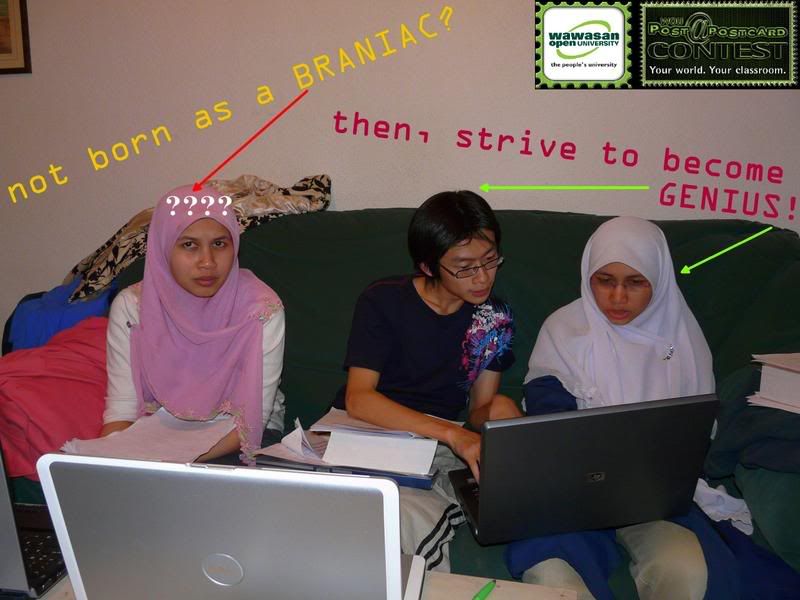 4)

Title:

Common Things In Uncommon Way
Caption:

Tips to success: Do The Common Thing In Uncommon Way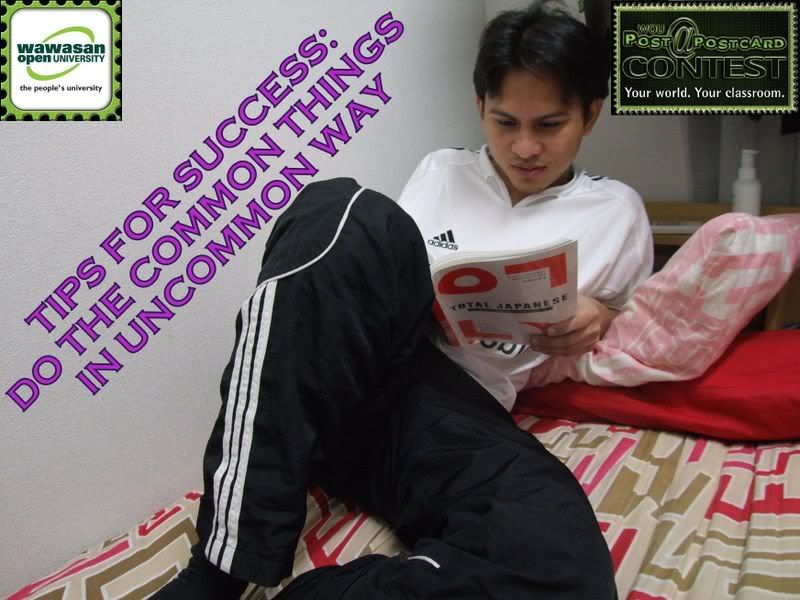 5) Title:
Masterpieces From Mozart
Caption:
Masterpieces comes from Mozart, knowledge comes from learning.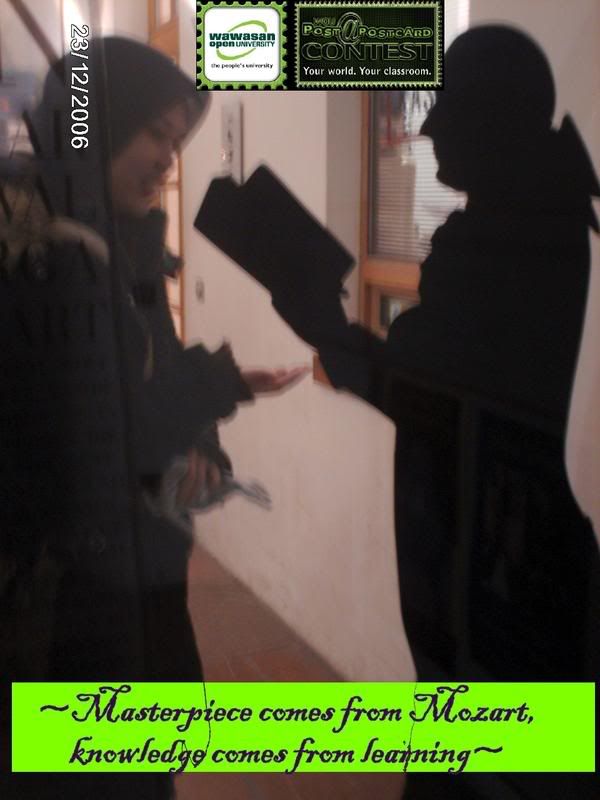 6) Title:
Detail Attention And Total Concentration
Caption:
Success in any endeavor requires detail attention and total concentration.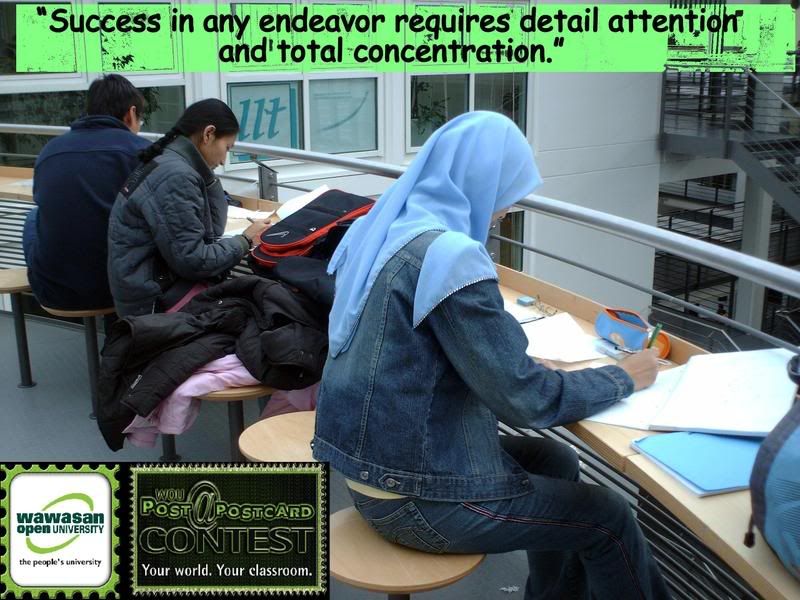 7)

Title:

Extraordinary Determination
Captions:

Real Leaders Are ordinary People With Extraordinary Determination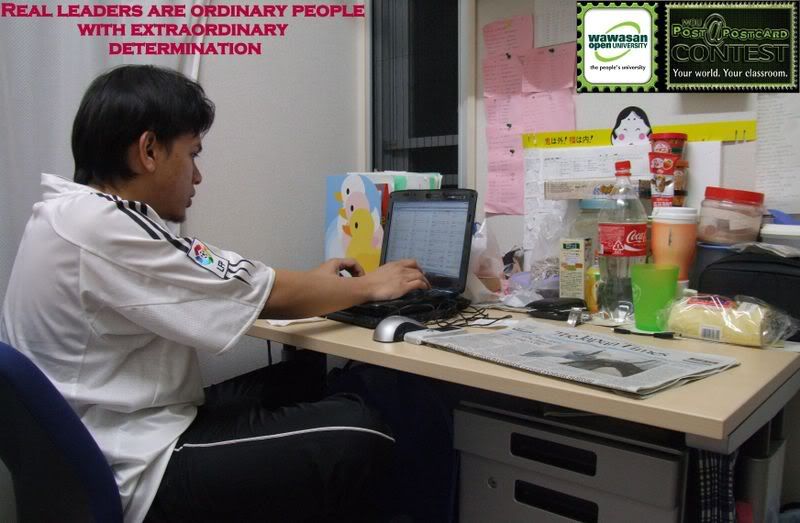 8) Title:
Combination Of Book And Sea Breezes
Caption:
The combination of book and sea breezes, pleasant my day.
9) Title:
Books Are Compasses
Caption:
Books are compasses to navigate dangerous seas of human life.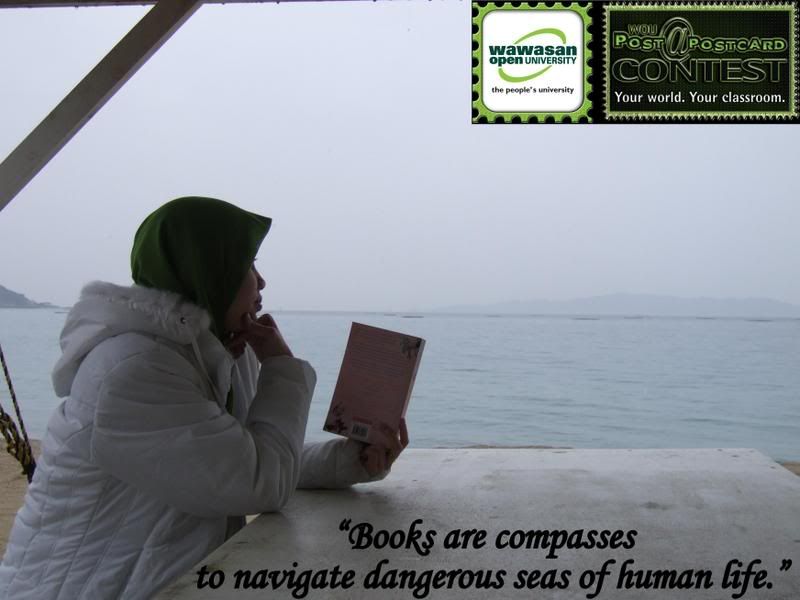 10)

Title:

Most Valuable Asset
Captions:

Most Valuable Asset is Willingness To Persist Longer Than Others
*
*
*
*
*
That's it. That was all
10 postcard
s
that I've created out of my photo with my friends and my hubby. Okie, I admit that I'm not really good with photo editing and etc but its just one of my attempt to win the prizes and also the best way for me to spent my time wisely in front of the laptop with the internet connecting into it!
So, which one do you like the most?