This entry is the continuation of

Journey to Nagasaki (part 1) --> Saikabashi Park and Nishikai Bridge

. ,
Journey to Nagasaki (part 2) --> Huis Ten Bosch : Kinderdijk
.
and

Journey to Nagasaki (part 3) --> the rest of Huis Ten Bosch area




(1) Isahaya Koen


The
2nd day
of our Nagasaki trip began at
9am
where we stopped at a park nearby the hotel that we stayed overnight. Forgive me, but I dunno the name of the bridge however I enjoy the breathtaking view of the park and the bridge. As we already have our breakfast at the hotel,
semua orang berwajah ceria dan gembira kerana kekenyangan di awal pagi
.
We were greeted by this marvelous
ume
flower

. Pink and luvly...
tiada kata yang dapat menggambarkan keindahannya, hanya gambar mampu menerangkan segala2nya
....
We were given only
30minutes
for cam-whoring by our
chief-de-mission
. But still everybody enjoy snapping pictures of the
Isahaya-park
and the
i-dont-know-the-name-of-the-bridge
ekekkekekke.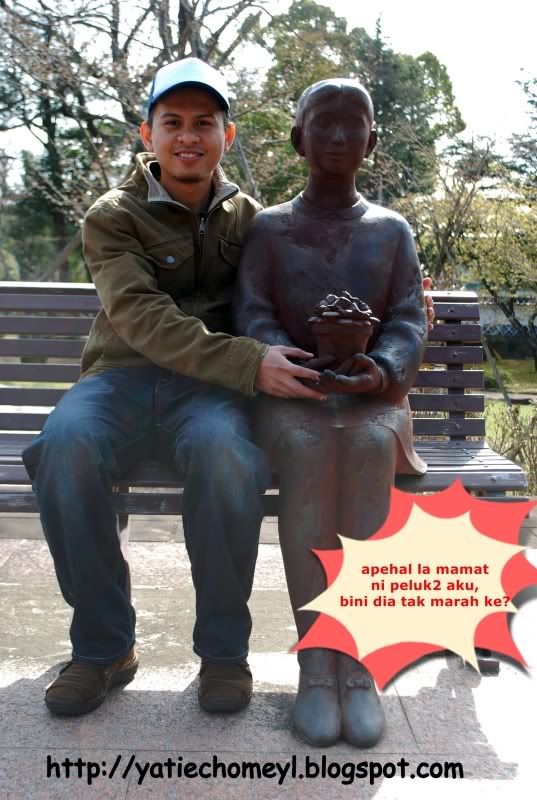 (suami isteri yang menyengalkan diri berposing dgn patung)



Preeettt...times up...
incik ketua rombongan dah suruh balik ke parking lot untuk meneruskan perjalanan ke Nagasaki Atomic Bomb Museum pulak
....

jommmmm