Hari ini rasa nak bercerita pasal salah satu dessert kat Jepun ni yang cuma di jual di musim panas iaitu KAKI GORI, baca betul2 ye..bukan kaki kena gari OK!.
Kakigōri (

かき氷

) is a Japanese shaved ice dessert flavored with syrup and sometimes condensed milk. Senang cerita, KAKI GORI = Ais Batu Campur (ABC) kat Malaysia. Tapi Kaki Gori tak ada segala mak nenek inti macam ABC kat Malaysia, sebaliknya ia cuma ada pelbagai perisa sahaja.
Popular flavors include strawberry, cherry, lemon, green tea, grape, melon, "Blue Hawaii," sweet plum, and colorless syrup. Some shops provide colorful varieties by using two or more different syrups. Kaki Gori is famous during summer as the hot humidity of the Japan summer afternoon started to take its toll. Masa musim2 lain memang lah payah nak jumpa, ko gila tengah sejuk2 nak makan AIS???? *ayat ponen sangat, bunyi macam Azwan Ali dah
hahaha*.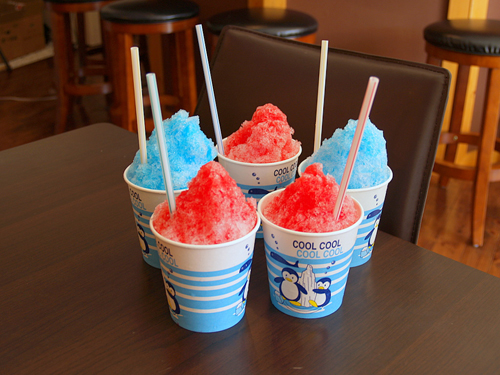 The traditional way of making kakigōri uses a hand cranked machine to spin a block of ice over an ice shaving blade. Even though electric ice shavers are most often used, street vendors can still be seen hand-shaving ice blocks in the summer. Kebanyakan hand cracked machine ni chomeyl gila, sumpah tak tipu kawaiii sangat. If korang berminat nak beli, kawan I ada jual; check it out at ZH shop.
+_
hand cranked KAKI GORI machine sold at ZH Shop -+
First time kitorang makan kaki gori ialah 2 tahun lepas masa pergi jalan2 tengok ladang Sunflower kat Yanagawa. SN pun baru2 umur 1 tahun 3 bulan masa tu, tapi dah pandai makan shaved ice tu hehehe.
I've been wishing for more kakigori every since. So last week we went to a shop nearby to our home and ordered this mouthful kaki gori in ichigo (strawberry) &mango flavours. Tapi masa kitoang pergi tu actually dah malam and hari tu pulak hujan. So tak feeling sangatlah makan kaki gori di kala hujan kan, dah sah2 sejuk. Hubby siap cakap it had gave him headaches if he eats too much of kaki gori masa sejuk2 tu; so indirectly TERPAKSA mak buyong yang habiskan. SN pun tak makan banyak sangat so mak buyong tak toleh kiri kanan...scoop the spoon into the kaki gori..nyum nyum slurp...aghhhh nikmatnya!.
So if you get to visit Japan during the summer season don't forget to try this famous Japanese dessert. But to tell you the truth, kelazatan ABC berganda2 lagi best dari Kaki Gori ni. Bersyukurlah korang kat Malaysia sebab boleh makan ABC bila2 masa tak payah tunggu bulan June-August sahaja. Oleh itu, sila mensyukuri nikmat yang ada ye *mode Ustazah Pilihan*.
Sebagai membuktikan kenyataan yang ABC kat Malaysia jauh lebih sedap dari Kaki Gori, I tinggalkan korang dengan gambar SN yang terpegun bila pertama kali mommy perkenalkan ABC Malaysia kat dia....terpana sampai membuntangkan mata. Masa gambar ini di ambil, SN baru berusia 1 tahun 1 bulan.
+- siap telan air liur lagi dia, tak padan dengan kecik -+
Pssssttt : rindu kat pipi tembam SN masa kecik, sekarang dah tak gebu.tak best nak cubit.
~ Thanks for reading this (^-*) ~