Lately hubby has been so supportive in my blogging activity that he encouraged me to update blog-yatie-chomeyl everyday hik3x...*
agaknya dia faham akan kebosanan tahap cipan tenuk dewa tertinggi yang di alami si isteri
*. Plus, I sometimes feel regret that I dont really update the things that I've done and those places that I've been inEurope before this...*
banyak nama2 tempat kat sana dah lupa
*, so pls bear with me *
jangan rasa nak baling terompah nyampah pulak kat mak buyung coz asyik cite pasal jalan2 je occay
*.
Okiee..dokie..cut the crap...let's start the story. Actually this BBQ was held last week (
Sunday : 12th april 2009
) at a
seaside near Keya area
. It was organized by anak2 bujang Fukuoka to celebrate the opening of new semester *
pepandai je wat assumption sendiri, padahal dak2 tuh memang saje nak wat makan2
*. Officially the party started at
9 a.m
but we arrived there a little bit late *
tetamu VVIP takpe sampai lambat
*. We picked up
ain, a-t-qah
and
diana
first before heading to the BBQ area.
Thanks to great-confusing-explaination-thru-phone from Ijatto we got lost before finally arrived to the right place *
dia ikut jalan lain, kitorang ikut jalan lain yang bertentangan..memang la sesat..hik3x..nak salahkan dia gak, x dulik
*. It was a bright sunny day and mak buyung take the advantage to just sit under the small tent and to just eat
*
bawah khemah ialah tempat meletak makanan, memang strategik tempat duduk mak buyung
*.
Anak2 dara bergetah prepared
nasi ayam + mashed potato + salad
for the party while anak2 bujang prepared the
marinated meat + kuey teow goreng
as mak buyung bring along
marble oat cake + kek batik + perut boyot
to the party.
After solat zohor, we walk along the beach and I collected some seashells *
chomeyl sgt kaler pink kecik2...letak wat hiasan kat almari tv...kawaiiiiii
*. Those anak2 bujang play sepak takraw *
panas terik main takraw...memang tak leh jumpa la kejadian camni di Malaysia
*.
By 4pm we left the beach. Malam tu mak buyung sakit kepala sebab tak tahan dengan cuaca panas terik + sakit2 badan dari paras pinggang sampai tapak kaki sebab lenguh duduk lama2 atas pasir kot.... sian mak buyung kan? *
psstt..tp lagi sian kat incik hubby kena jadi tukang urut
*
VOTE FOR ME!! simply by just clicking on this image!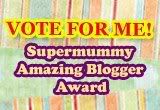 *
iklan ni akan berada di blog ini sampai la 30 april..harap bersabar kalau rasa annoying
*