Last
Sunday (26/04/2009)
, hubby and I went to
Uminonakamichi Seaside Park
*
macam biasa la weekend ialah hari tak-halal untuk stay kat umah hik3x
*. This park is situated at
Kashii, Fukuoka
and the journey is about
1 hour
with car. Since it is Sunday, the entrance fee is free jadi berduyun2 lah
umat manusia akan memenuhi park ini. Thus, incik hubby decided to bertolak awal dari rumah, kul 7pagi dah keluar dari umah, mak buyung ngantuk
sakai
giler sebab tak tidur dari lepas Subuh
*
subuh awal weh sekarang, kul 4.30pg dah kena bangun
*.
Upon arriving, we were the first one to arrive *
pintu pon tak bukak lagi
*
. Jadi nya tidur la lam kereta dulu sementara menunggu pagar di buka. After a while, k.Yati's family arrived and by 9.15a.m we already entered the park.
The
Uminonakamichi Seaside Park, Fukuoka
provides recreation for the entire family, relying more on nature than machinery for fun. Inside this park, there is an a
musement park
with 21 rides *
tapi kitorang tak naik pun
*. Visitors can receive enjoyment from other activities like
disc golf, putt golf, jogging, cycling, cycle boats, zoological garden
,
a rose garden
*
bulan 6 nanti baru berkembang mekar
*,
wild bird forest
, and
children's obstacle
.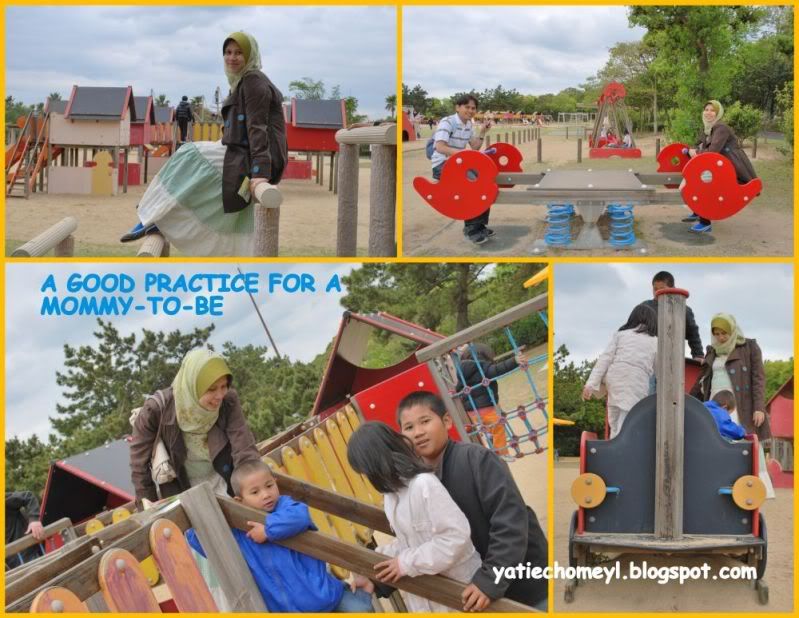 Campgrounds, restaurants, shops, and vital facilities, medical stations are also located inside the park. The Uminonakamichi Seaside Park is spread over
200 hectares of land
. *
luas kan? bayangkan mak buyung jalan terkedek2 nak tawaf keseluruhan park nih..huhuh..gigih kan mak buyung
?*
Elok2 cuaca terang jer sepanjang minggu, alih2 je cuaca mendung plak hari Ahad tu...jadi suhu pun tiba2 sejuk dengan angin sepoi2 bahasa
Jepun
bertiup agak kencang. Incik hubby pulak tak ready dengan jaket langsung *
siap pakai t-shirt lengan pendek je
*
. Nasib baik k.Yati come out with an idea to phone Kak Nura to bring his hubby's jaket untuk di pinjamkan pada incik hubbyku *
yang hampir beku dah
*.
We spent most of the time at the park playing at the
playground
and walking at the
zoological garden
. Luas giler, mula2 tak rasa letih but then towards the end..mak buyung dah rasa macam nak krem dah kaki *
tapi wat2 berlagak tak letih bila Ain & A-t-Qah tany
a*.
Nak tahu satu citer lucu tak? *
kalau tak mo tahu pon mak buyung nak citer gak*
.
I used toilet for disable persons *
sebab susah kan nak mencangkung kat toilet cangkung tuh
*. Masa nak flush, I accidentally pull the emergency button ...neeenong neeenong..satu taman dengar bunyi alarm. Mak buyung wat2 cool macam muka tak bersalah jer keluar dari toilet
*
walhal semua orang dah pandang2, apehal si buyung yang boyot tu tarik emergency button..dah nak terberanak dlm toilet ker? muahahahhaha
*.
Nasib baik K.Yati jumpa button to turn off the alarm...hik3x...kusss semangat.
Before going home, Kak Nura dengan baik hatinya belanja budak2 kecik *
termasuk budak kecik dalam perut mak buyung
* dengan aiskrim coklat..
ehhehhe..best2x....We went home a little bit earlier than the others sebab nak menyinggah kat Plaza Praliva,Nishijin for Branded Item sale *
tak beli apa2 pon, singgah cuci mata jer
*. Masuk jer dalam kereta, mak buyung terus pengsan...bukannya pengsan apa, tapi tertidur keletihan.
(here's a short video about Uminonakamichi Seaside Park)
Psssstttt

: Agaknya sebab banyak sangat berjalan, I feel totally worn out sampai tak larat nak bergerak pun bila sampai rumah. Terus mak buyung terdampar kedugongan keletihan atas katil sampai wat incik hubby risau. Then mak buyung tanya incik hubby, "

b

akpo lo ni letih sangat? dulu2 jale 10km pun rilek jah

".
Incik hubby pon menjawab dgn konfidennya.."

ayg tu dah nak masuk 9 bule meme la letih isk3x

".
Aaahhh erk, kadang2 mak buyung terlupa yang mak buyung ni dah sarat bebenor.