This entry is the continuation of the previous entry :
~Pregnancy and me (part 1) : 1st month~, ~Pregnancy and me (part 2) : 2nd month~, ~Pregnancy and me (part 3) : 3rd month~, ~Pregnancy and me (part 4) : 4th month checkup~, ~ Pregnancy and me (part 5) : 4th month symptoms ~, ~Pregnancy and me (part 6): 5th month check up~, Pregnancy and me (part 7): 6th month ~, ~Pregnancy and me (part 8) : 7th month ~
Readers are advised to read those entries before proceeding on reading this entry to alleviate mental sickness symptoms caused by the misunderstanding in the contents & issues discussed in this particular entry


-----------------------------------------------------------------------------------------------------------------------------------------------------------


32nd weeks pregnancy check-up

DATE:
11th April 2009
VENUE:
Nagano Sanfujika (Obstetrics & Gynecology) Clinic, Nishi-ku, Fukuoka-ken, Japan
Last Saturday, Hubby and I went for
baby SN's 32nd week check-up
. This time we didn't bring along anyone as a translator (
bukan sebab berlagak konon2 dah pandai cakap Jepang
), but it turns out that nobody seems to be available that morning. Plus, it was just another routine check-up, which means that we can already understand the terms and words used by the nurse and Dr.
As usual,
urine test
was performed. As there were quite a number of people at the clinic, it took about
2 hours
of waiting before I was called for my
weight and blood pressure test
. *
bosan giler masa tunggu ni, bayangkan datang kul 10pg, kul 12 baru panggil masuk
*. My weight has
increased 1.7kg in 2 weeks
which means that I am already
58.8kg
by now..sigh! *
harap2 dapat la turunkan berat semula lepas bersalin nanti huhuuhuh
*.
After that, we waited for another 20minutes before seeing
Dr Nagano
. The routine check was performed which includes
fetal heartbeat
,
height of fundus
*
nurse ukur2 saiz & tinggi perut ku ini
*,
size and position of the fetus
by performing external palpation *
macam biasa la Dr Nagano ukur dari area v-section tu
* and also ultrasound check on baby SN.
Baby SN
has already reached
1.94kg

in weight
*
makin berat budak kecik nih
*. Through the external palpation check, Dr told me that my v-section is good in opening and that
baby SN's head already in the correct position
at the bottom *
nampak macam baby SN tak sabar2 je nak keluar
*. So, there's nothing to worried about..thus, I really hope that I'd be able to perform normal vaginal brith to baby SN later.
(anak panah merah tu tunjuk perut baby SN)
This time hubby has to paid
1500yen (RM54)
for the check-up. The actual cost for the check up is
6500yen (RM234)
, but
Jap-govt
will pay the rest
5000yen (RM180)
as hubby are paying for the insurance. Our next appointment will be in another 2weeks time.
------------------------------------------------------------------------------------------------------

32nd weeks pregnancy symptoms


(1) Shopping for baby SN


After the check up, we went home for lunch and solat zohor before heading to Baby's Shop. I cant wait to buy everything for baby SN's needs. So, we end up spending almost
8500yen (RM300)
for baby SN that day. I guess we already finish 80% of the preparation for baby SN *
senarai barang2 untuk baby di beri oleh mak bidan masa minggu ke-24 lagi
*. There are only few things left to buy for baby SN e.g
stroller
,
baby's pouch
,
liquid bottle sterilizer
*
kena guna cecair khas ni untuk pastikan botol susu bersih dari kuman
*,
bath tub
and
termometer
*
ni untuk pastikan suhu air tak panas sangat masa nak mandikan dia
*.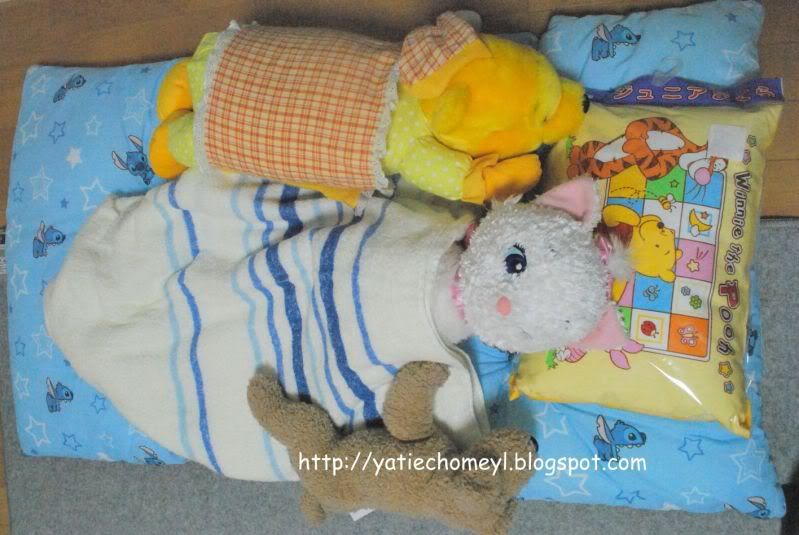 (incik hubby yang pilih tilam & selimut utk baby SN, mommy dia pilih bantal2 kuning tu)

There are also few things that we still consider whether to buy it or not e.g
sleep sack clothes
,
car seat
,
formula milk
*n
i tak yah beli kalau baby SN breastfeed sepenuhnya dari mommy dia
* and
sleeping basket
. These things will be in KIV list depending on baby SN's need in the future. *
padahal mommy dia kalau leh nak beli semua2 ni, tapi kesian pulak kat daddy dia
*. Most of baby SN's newborn clothes were given as a present by my family and friends. Thus, we only bought few pairs for him.
(hadiah dari Cik Nur yang di pos dari New Zealand)
(romper merah air asia tu hadiah dari bestfriend yg kije kat Air Asia, romper coklat tu daddy dia yg pilih...baju2 tu pulak hadiah kahwin dr kawan2 dan bakal adik iparku
*diorang mcm nak kitorang cepat2 dpt baby je hik3x*
)
I am someone who can rarely walk slowly
*bukan perempuan melayu terakhir yang jalan sopan santun gitu*
and always in an active & energetic lifestyle.
*Kadang2 hubby macam lupa yang wife dia mengandung sebab wife dia suka lompat2 + panjat2 + angkat barang2 berat*
. However lately, I've been suffering for more and more backaches and it becomes worse if I sit for a long time. Hubby has to always massage me sampai dia tertidur keletihan.
(3) Mood swings
Entering this 32nd weeks, my mood swings is becoming very2 uncontrolled that I can easily sulking with hubby for a whole day. As for this week only, I've been sulking 2 times with hubby *
merajuk sepanjang hari, nangis meleleh2 air mata, siap wat drama tepi jalan sampai tak mo naik keta...nak jalan kaki je balik umah...wakakkakak....
* . Setiap kali merajuk, hubby kena pujuk lebih dari 10x baru ok,kadang2 incik hubby pon penat..malas layan..dia biar je merajuk dulu lama2.Dah cool, baru dia pujuk huhuhuh. Anybody got tips how to control my "merajuk" sindrom yang semakin menjadi2 sekarang ni??
I am writing this entry to make sure that I'll always remember each and every lovely moment that I have encountered during my pregnancy. I hope that one day, whenever I'm pregnant for my next baby( 1st baby pon x keluar lg, dh sibuk2 nak fikir next baby hihiihi)......this experiences that I'm having rite now will remain as a memorable experience in my life.
Enjoy reading this entry?

Try reading other entry under this label:
~pregnancy and me~