Kita selalu di hidangkan dengan gambar di atas untuk menerangkan betapa berbeza nya konsep shopping bagi kaum wanita dengan kaum lelaki. Rajah di atas secara terang2an seperti mempersendakan kebolehan terulung kaum wanita dalam hal membeli belah. Untuk mendapatkan kepastian tentang kebenaran atau kesalahan rajah di atas *alasan semata2, padahal memang nak gi shopping...wink wink*, mak buyung telah mengikuti rombongan konon2-nak-window-shopping-semata ke Tosu Premium Outlet yang juga dikenali sebagai syurga membeli belah di Saga prefecture pada hari Sabtu lepas (18/04/2009).
Mengikut perancangan, sepatutnya bertolak kul
8.30pagi
tapi alih2 kul
9.30pagi
baru gerak. *
dak2 laki ni bgn lambat..nak kena sekeh nih sorang2
*. Rombongan 4 buah kereta (odyssey, wagon R yg chomeyl, mazda demio & mira) di sertai oleh
dak2 bujang2 Fukuoka, family Kak Yati
dan
family Kak Nura
.
Anak2 dara
tak ikut sebab gi survey motor, manakala
family2 lain
tak ikut sebab ada planning nak shopping besar-besaran next week hik3x.
*
pssttt, kak sofiah, yatie nak ikut erk gi nishi-jin, jgn tak ajak tau
*.
Since it was Saturday, jalan agak sesak dengan kereta bersimpang siur dan bertali
pusat
arus, it took us about 1
1/2
hour
to reach there. Sesampainya di sana parking lot dah agak penuh tapi memandangkan mak buyung adalah sarat, maka bolehlah parking kat parking khas utk OKU dan pregnant woman tu...takderlah kena jalan jauh sangat. Dah parking kereta maka bermulalah walkhaton untuk memasuki hampir
120 branded outlet
yang terdapat disini.
(unik kan hiasan landak ni...cam berus sabut)
There are

NIKE, Dolce & Gabbana, PUMA, ADIDAS, United Colors of Benetton, Quicksilver, Levi's, Edwin, T-fal, Gap, Nicole, Cole Haan, Eddie Bauer, Tommy Hilfiger, Vans, Samsonite, G-Shock, Billabong, Seiko, Body Glove, New Yorker, Hush Puppies, Triumph

and many many more other branded outlets *

banyak gak brand2 yang tak pernah dengar

*...you can check out the list
here
!.
The outlets varies from selling clothes to household appliances up to kitchen ware and not forgetting pet's accesories shop.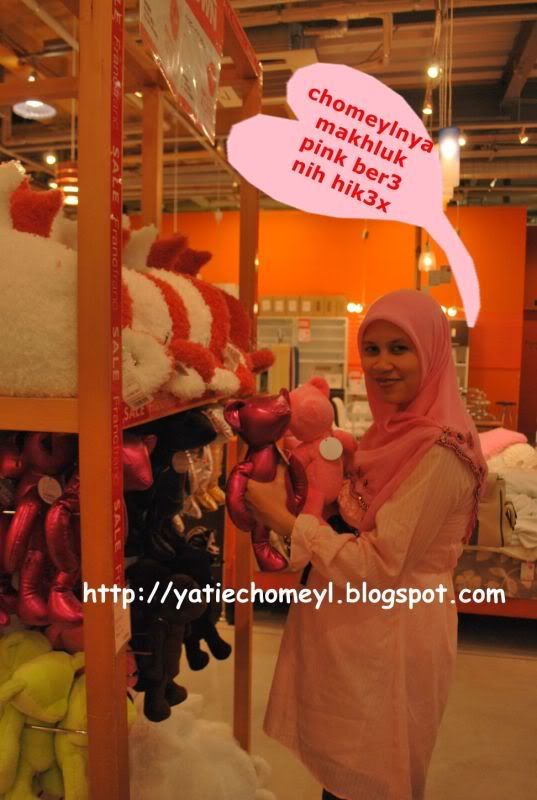 (dalam kedai hiasan brg2 rumah - Franc Franc)
Those
120 shops
are lined up in
Spanish Colonial-style
premises reminiscent of a beautiful town in
Southern California
has created a pleasant environment for shopaholics out there. *
memang lawa dan selesa sangat
*. Although it was supposed to be tiring to enter all the shops *
campur dengan belek2 dan pegang2 lagi
*, surprisingly mak buyung were able to finish it without even complaining! I impressed hubby with my dashing stamina *
ngalahkan minum air red bull 1 katon
* sampai dia cakap "
kalu shopping, tok letih yer? jale laju jah
".
#Perbezaan 1 #:
-

Perempuan

akan round dulu semua kedai sebelum wat keputusan untuk beli sebab takut menyesal kalau jumpa yang lebih lawa kat kedai lain.
-

Lelaki

akan beli apa yang dia nak lepas tu dah beli, duduk berehat dan tak nak masuk kedai2 lain dah.



@ Tips 1 @:


- Bagi

lelaki

, sila bersenam dan pastikan stamina anda di tahap cergas sebelum mengikuti kaum perempuan ke shopping mall.
- Bagi kaum
perempuan
, teruskan aktiviti menyihatkan badan dan bersenam di shopping mall untuk mengekalkan potongan badan yang slim.
After covering almost 80% of the shopping area, I finally made up my mind to choose a long dress which can be used as maternity dress as well *
mak buyung kan dah boyot sangat, seluar semua tak padan dah...ni pon pinjam seluar jeans incik hubby time keluar jalan2 hik3x
*. This long dress from
Olive des Olive
outlet cost hubby
3990yen (RM146)

*
kalau beli Maternity dress lagi mahal dan tak lawa sangat design dia kan?
*
. After buying that only I feel tired *c
eh, dasar si chomeyl yang sengal, dah dapat apa yang nak baru rasa lenguh
* so it's about time to take a break --> lunch & solat zohor.
Ahli2 rombongan berkumpul kat children playground untuk makan2. Mak buyung *d
engan bantuan incik hubby
* sempat menyediakan
kek donut kawaii + nasi goreng tomyam
utk bekal hari tu.
Kak Nura
bawak
kek pisang kelapa
and
kak Yati
bawak macam2 jenis
roti + inari + onigiri
... manakala
dak2 bujang
bawak perut
(
resepi kek donut kawaii
boleh di dapati di
sini
)
After that, we continue walking to the rest of the outlets before hubby decided to bought 2 t-shirts for himself from
Levi's
outlet. Those 2 t-shirts cost him
3720yen (Rm137)
. Yang geramnya mula2 incik hubby pilih dua2 yang sama design dan sama kaler (1 kaler putih lengan pendek design jalur2 hijau...lagi satu kaler putih lengan panjang design jalur2 merah). Selepas ber
tekak
bincang dan mak buyung menyertakan 1001 hujah & pandangan bernas, akhirnya baru lah hubby tukar t-shirt kedua tu amik baju lengan panjang kaler merah design yang ada tulisan isk3x.
# Perbezaan 2 #:
- Lelaki

tak akan pilih variety dalam pakaian mereka tak kisahlah dari segi warna ataupun design, sebab itu pakaian mereka adalah agak bosan di pandang mata.


- Perempuan

ada macam2 variation dalam pemilihan warna dan design pakaian2 mereka, sebab tu perempuan adalah agak menarik di pandang mata



@ Tips 2 @:


- Untuk

perempuan

, pastikan anda berada berdekatan suami sewaktu beliau memilih pakaian untuk mengelakkan beliau memilih warna yang bosan dan sama untuk setiap pakaiannya.
-
- Untuk
lelaki
, elakkan memilih warna dan design yang hampir sama untuk baju2 anda, tak bosan ker balik2 kaler hitam + biru + putih..ambiklah pink sekali sekala, apa salahnya *
wink wink
*.
PUMA
outlet, there were special offer for buying three items at the price of two items only!.
Kak Nura
and
Kak Yati
have succeeded to persuade me *
tipoo lagi, padahal diri sendiri memang berkenan nak beli
*, to join them buying new shoes. This time, hubby was so tired to walk thus he just gave me his wallet and let me buy anything that I want. Hubby sat on the benches while the three of us busy choosing our shoes. After dividing the total price of those 3 shoes, each one of us has to pay only
1995yen (RM73)
*
mana nak dapat weh kasut PUMA harga cenggini!
* for each shoe. Interesting facts is that, the three of us have the same shoe siz i.e
25 (US size: 8 1/2)
and the salesboy has to take out our shoes from the store stock *
k
aki orang jepun tak se-perahu kaki kami ber3
*.
(ketiga2 model menggayakan kasut bersaiz gergasi masing2)
#

Perbezaan 3#

:
-

Suami

yang keletihan akan menurut sahaja permintaan si isteri *t

ermasuklah menghulurkan keseluruhan wallet

* untuk mengelakkan bibir itik si isteri memuncung
58deg
ke depan
-

Isteri

tidak akan pernah sesekali merasa letih sewaktu shopping biarpun sedang sarat mengandung 8 bulan
@ Tips 3 @:
- Untuk

isteri,

pastikan suami dalam keadaan letih untuk senang minta apa2.
- Untuk

suami

, pastikan duit dalam wallet tidak terlalu banyak jika mau menyerahkan keseluruhan isi wallet buat si isteri.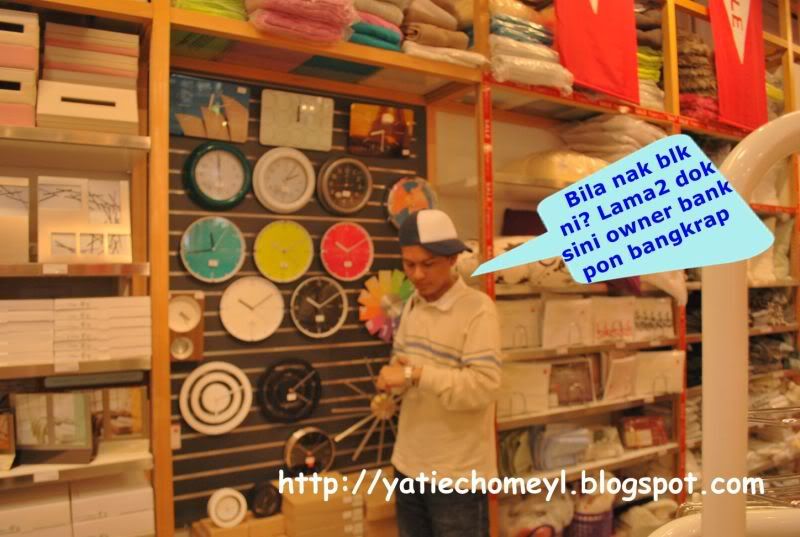 So, that's it. Finally I managed to find out
3 main differences in shopping patent between female and male
. I hope this tiny little tips from me helps you female and male out there to know each other well to avoid misunderstanding and argument in the future. Baik kan mak buyung, share tips untuk shopping
menghabiskan
menggunakan duit incik hubby yang beriman, kaya, penyayang, kacak dan bergaya *
ayat bodek sebab dah dapat apa yang di ingini
ekkekekekke
*.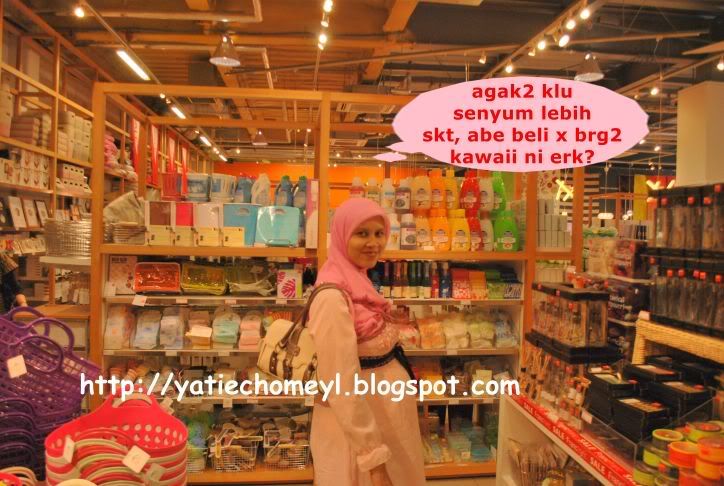 Prinsip shopping mak buyong

: Biar letih me-round, asal dapat baju yang stylo!





Pssttt

:

Macam biasa, bila tiba waktu malam.....lenguh2 akan menyerang seluruh badan dek kerana keterujaan shopping sehingga melupakan keboyotan diri isk3x...sumpah, sikit pon I tak nyesal!