Last week I persuaded hubby to take me out for lunch at a
Sushi Restaurant
nearby our house. Sebenarnya dah banyak kali gak datang makan kat sini tapi tetiba lak baru teringat nak
menunjuk-nunjuk
tunjukkan antara menu sushi yang ada kat sini. Plus, I was thinking that once I gave birth to
baby SN
, ada macam2 pantang larang on the foods that I can take during the confinement period...oleh itu mak buyung mau pulun makan semua yang boleh sebelum masuk alam berpantang tuh.
e

ee..yurk
...mentah...tak sedap
". For me to compare Malaysian-made-sushi with Japan-made-sushi is not fair as sushi surely is Japanese food.... tapi memang sushi2 yang di jual kat Malaysia tak sesedap sushi2 kat sini. Plus, sushi2 kat sini banyak yang bergoreng dan berbakar
*takderlah rasa ikan mentah macam kat Malaysia*
.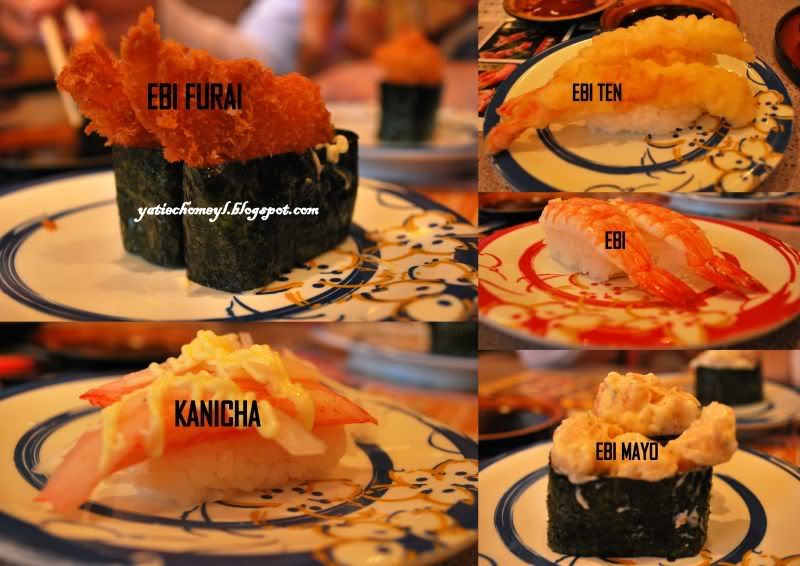 According to pregnancy book, pregnant woman are not advised to eat sushi but when I asked my gynae, Dr Nagano said it's ok for me to eat the cooked-sushi and to just avoid eating the raw-sushi as raw-food might contain bacteria which is not good
for baby inside my tummy.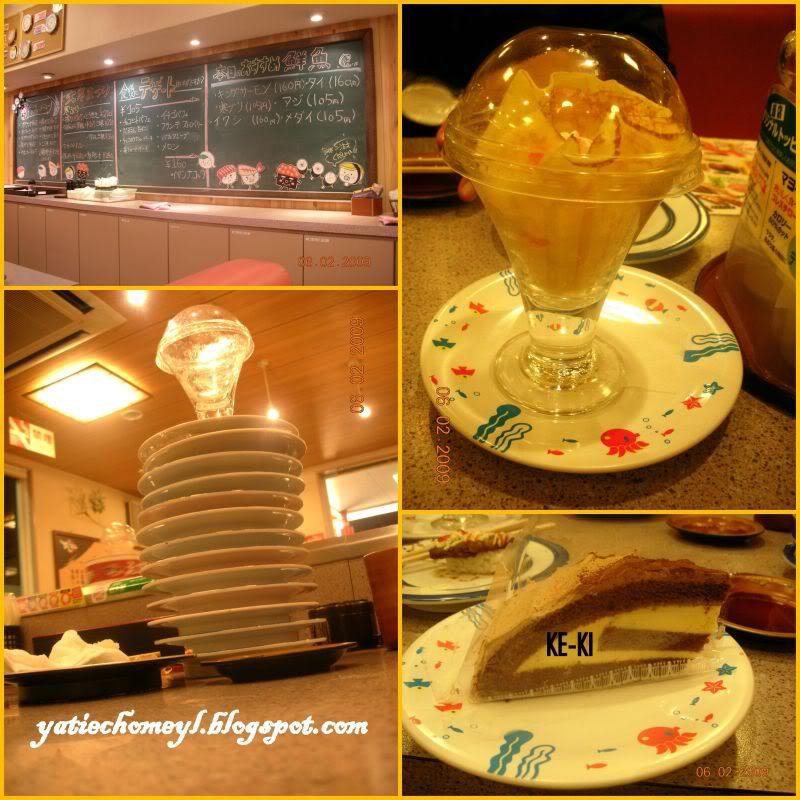 Kalau kat Malaysia, the best place to eat sushi will be at
Sushi King
lah kan? But if you want cheaper sushi, you can always get it at
Carrefour
(tapi rasanya tak semua
Carrefour
ada jual). While at this
Sushi Restaurant
, each plate cost us
105yen (RM3.90)
and
each plate
contain
2 pieces of sushi
. Usually both of us will be able to eat
less than 20 plates
*bergantung pada tahap kelahapan kelaparan perut masa gi makan tu lah*
. The Japanese were able to eat 20 plates for 1 person...huhuuhuh..
.seram mak buyung tengok
isk3x
.
Psssstttt:

tak sabar tunggu umi & mak andak sampai sini, kalau tak bersalin baby SN lagi..leh la bawak umi & mak andak gi mentekedarah sushi gak.