Thinking of organizing a splendid and unforgettable Family Day with a bunch of family and friends? Here's some tips on having it....fasten your seat-belt and enjoy your ride throughout this post .... ready ... GO!
1) Perfect date, venue and weather
Last
Saturday (16/05/2009)
, the weather is a bit gloomy yet nice for us in order to enjoy Family Day for Malaysians living in Fukuoka. Seaside area nearby
Keya芥屋
, has been selected by the committee as the perfect place to hit the sandy shores. It is a very pleasant and well-protected cove with sandy beaches. Free services like public toilets
*sangat penting bila ada anak2 kecik dan mak buyung*
and parking lots making it ideal for families.
2) Delicious food prepared in enormous amount
Abg Shoiful
as the head of committee for this Family Day has divided the task of preparing foods to each person. Hubby and I were entitled to prepared the
BBQ chicken
*
tak sempat amik gambar, sedap sangat kot..muahahhaha..perasan dush dush
*. The main meals were i.e
satay daging, satay ayam, sosej bakar, nasi impit, kuah kacang, kuey toe goreng basah
*amir masak..lazatttttt sgt
*, nasi beriani
*
tak sempat makan uwaaa
*,
ikan bakar
and
ayam bakar
. While for the side dishes, there were
kek pisang, kek coklat, kek span boyot
*
heran la, nape kek tu jadi sama macam perut mak buyung
*,
sardine puff, cheese cupcakes
and
puddings
.
(makanan2 yang sempat di 'snap' sebelum di 'ngap')
(mengapakah kek span ini mengikut bentuk perut chef nya? hairan..hairan..)


Mak buyung tak makan banyak sangat sebab syok dok nyembang. In fact, I just ate 1 piece of ayam BBQ, selebihnya mentekedarah segala side dishes yang sangat yummy.
Sambil sembang2 kosong
*mana der kosong, 1...2...3...4 dan selebihnya bilang sendiri*
, mak buyung turut mengambil peluang untuk korek
tips2 bersalin
dari ibu2
. Ramai yang jamah2 perut mak buyung untuk predict when will I'll give girth to
baby SN
. Most of the
mak nujum
were saying that it will definitely NOT to be on that day as my belly was not harden enough. *
s
ebab tu mak buyung semangat je gi BBQ, dah tahu baby SN nak bagi chance kat mommy jalan2 lag
i*.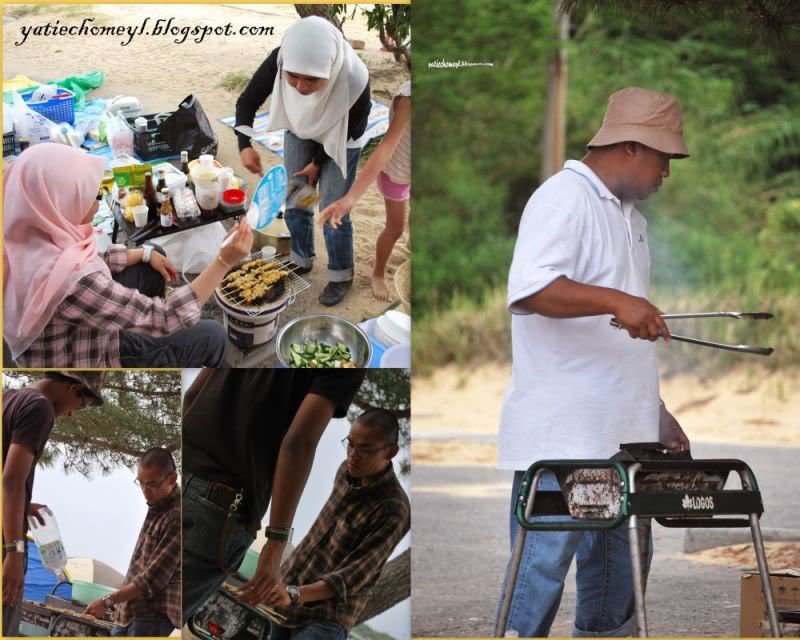 (tukang bakar yang komited dengan tugas sedangkan yang lain sedang curi tulang)
3) Exciting activities & games for everybody
(a) Beach volleyball
The first game held was a
volleyball match
between the bachelor and the used-to-be-bachelor i.e
bapak2 and a bapak-t0-be *

incik hubby ku

*
. Lack of experiences is believed to be the reason of why the anak2 bujang are losing to the bapak2.
Despite anak2 bujang supposed to have extra energy in stamina (
*semangat berpasukan yang tinggi walaupun ada beberapa orang yang jadi lubuk muahahaha*
) the bapak2 team managed to brushed up their almost berkarat skills (*
macam2 gaya angkat bola...siap menyudu menyenduk sumer ada..gaya memang 10 markah lah
*) to win the game proudly with style.
(b) Galah panjang
('choh' dlm bhs qelate)
and

Bola Beracun




The mak2 dara and anak2 dara bergetah were having fun with
galah panjang game and bola beracun game
. Playing this kind of game menggamit rindu pada kampung halaman dan jugak mengenang zaman kanak2 yang menyeronokkan. Mak buyung terliur sangat2 nak main tapi nanti takut orang lain x lepas nak lalu kalau mak buyung yang jaga ekekekeke.
*
padahal a-t-qah &

ain

tak bagi main, diorang takut mak buyung terberanak pulak bila lari2 kat situ
*.
(c) Masak-masak
So, what is the suitable game for mak buyung to play? Of course, the non other than the
masak-masak game
with the kids.
Mak buyung jadi customer kat restoran diorang. Macam2 order yang keluar..udon la, sushi la, banana split la...layan je lah.
(menunggu order siap di'masak')
(tengah kelentong ape ntah dengan udin time nih)
I took it as a part of special training on how to treat my baby later hik3x. I did enjoy playing with them
*rasa cam kanak2 jugak .... siap bersila atas pasir dengan diorang gak*
. Hopefully, when baby SN is born, this kids will treat them nicely as well.
4) Free class for photography
As Abg Nuri is one of the professional photographers, the other amateur photographers took the advantage to undergo free tutorial class with him. Lots of tips were given and most of the photgraphers were trying hard to apply the techniques.
*mak buyung pun menuntut gak..tapi tak pandai2 hik3x jadi mak buyung decide nak jadi model jer lah, biar incik hubby jadi camera-man*.
(sessi tutorial dan sesi mengaplikasi tutorial sedang berlansung)

(free supermodels in action
)
5) Tremendous supports from the committee members
In any event, support from energetic members were the important factors in order to have a successful event. On my behalf, I enjoyed the Family Day and looking forward to have it again in the future. Even though I'm already in my
37th weeks 6days pregnancy
, it didn't stopped me from having fun and enjoy the activities. I do feel tired at a time but the joy and happiness of being with the other Malaysians, has boost up my energy *
sampaikan Kak Pora cakap mak buyung ni 'kuat' lagi huhuhu...padahal time tu dah rasa sakit2 pinggang dah, tapi tetap nak mantain macho hik3x
*.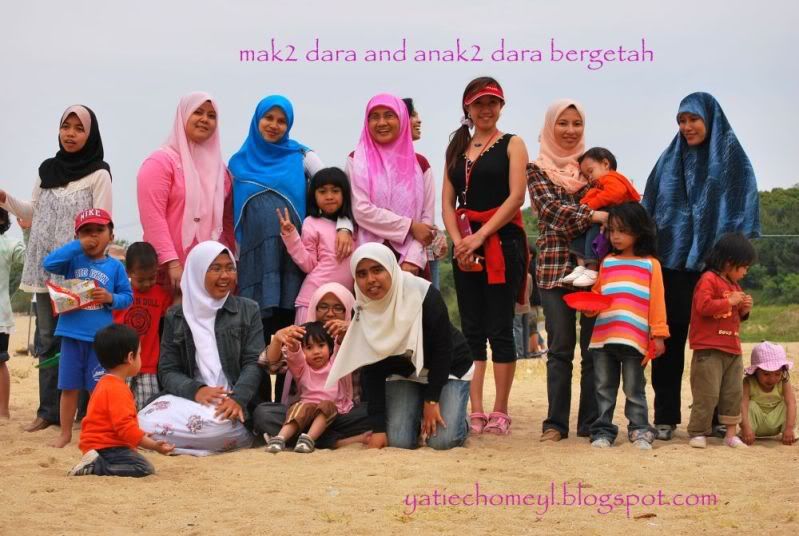 I ended this entry with a happy face from a mommy & daddy to be. Kudos to Syamim for capturing this nice picture of hubby & me.
"
A good snapshot stops a moment from running away. ~Eudora Welty
"
Psssstttt:

Balik rumah je malam tu, kami berdua lenguh2 badan tapi incik hubby je ngurut mak buyung. Mak buyung dah tak berdaya nak gerak, melepek je atas katil hik3x. Walaupun penat dan ngantuk, tetap sempat melayan game M.U - Arsenal dan jugak melayan Konsert Final AF7 kat youtube .